Japanese encephalitis virus (JEV) is the main cause of viral encephalitis in many countries of Asia with an estimated 68,000 clinical cases every year and more than 3 billion people at risks of infection.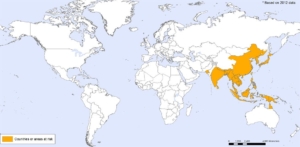 Medigen uses iDNA technology encoding synthetic, live-attenuated JEV vaccine. JEV iDNA can be used either directly for vaccination, or for preparation of safer live attenuated vaccine in cell culture. The advantages of Medigen's iDNA technology include genetic stability, natural immunity and a higher level of safety resulting from the genetically stable iDNA. 
A single-dose vaccination of mice with 0.5 – 5μg of iDNA plasmid resulted in seroconversion and elicitation of JEV-neutralizing serum antibodies. The results support further development of iDNA-derived vaccines for prevention of JEV infections. 
Medigen publications:
Pushko P, Lukashevich IS, Weaver SC, Tretyakova I. DNA-launched live-attenuated vaccines for biodefense applications. Expert Rev Vaccines. 2016 Sep;15(9):1223-34.
https://www.ncbi.nlm.nih.gov /pubmed/27055100
Nickols B, Tretyakova I, Tibbens A, Klyushnenkova E, Pushko P. Plasmid DNA launches live-attenuated Japanese encephalitis virus and elicits virus-neutralizing antibodies in BALB/c mice. Virology. 2017 Dec;512:66-73.
https://www.ncbi.nlm.nih.gov /pubmed /28938099