Chikungunya virus (CHIKV) causes chikungunya fever, a global infectious disease. The virus is found worldwide including Europe and the U.S.  CHIKV is transmitted to people usually by two mosquito species, Aedes aegypti and Aedes albopictus. Symptoms include arthralgia, respiratory failure, cardiovascular disease, hepatitis, and central nervous system problems, especially in the elderly and children. Considering ongoing large epidemics and the worldwide distribution of mosquitoes, there is a risk of a CHIKV pandemic.

Currently there is no approved vaccine or treatment for CHIKV. To develop vaccine, Medigen uses proprietary iDNA technology. Medigen's vaccine is based on genetically stable iDNA plasmid that ensures safety of the vaccine. Next generation sequencing revealed that the iDNA-launched CHIKV vaccine includes enhanced safety features.
Experimental CHIKV iDNA vaccine was evaluated in mice in collaboration with the University of Texas Medical Branch (UTMB, Galveston, TX). Vaccination of mice resulted in elicitation of neutralizing antibodies and protection from challenge with a pathogenic CHIKV (Tretyakova et al., J Infect Dis. 2014). Research was supported by the NIH NIAID.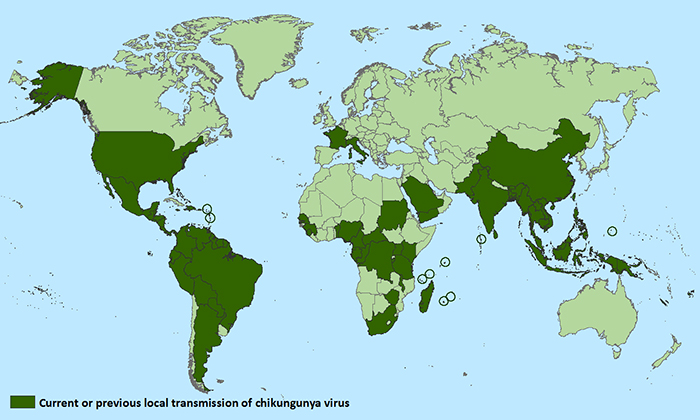 Medigen publications:
Pushko P, Lukashevich IS, Weaver SC, Tretyakova I. DNA-launched live-attenuated vaccines for biodefense applications. Expert Rev Vaccines. 2016 Sep;15(9):1223-34.
https://www.ncbi.nlm.nih.gov /pubmed/27055100
Hidajat R, Nickols B, Forrester N, Tretyakova I, Weaver S, Pushko P. Next generation sequencing of DNA-launched Chikungunya vaccine virus. Virology. 2016 Mar;490:83-90.
https://www.ncbi.nlm.nih.gov /pubmed/26855330
Tretyakova I, Hearn J, Wang E, Weaver S, Pushko P. DNA vaccine initiates replication of live attenuated chikungunya virus in vitro and elicits protective immune response in mice. J Infect Dis. 2014 Jun 15;209(12):1882-90.
https://www.ncbi.nlm.nih.gov /pubmed/28624679